HiPP Goat Milk Formula Stage PRE Organic (400g) German Version from Birth
HiPP Goat Milk Formula Stage PRE Organic (400g) German Version from Birth
×
Florida customers from the following zip-codes are eligible: 33160, 33180, 33009, 33162, 33008, 33181
×
Клиенты Florida из следующих почтовых кодов имеют право: 33160, 33180, 33009, 33162, 33008, 33181
$37.99
$37.99
HiPP Goat Milk Formula Stage PRE Organic (400g) German Version from Birth
5
1
Leave a positive feedback and get $2 discount for your next order on our website. After that you will receive 200 points in your bonus account
1$ OFF Each when you buy 4 Save 4$ 2$ OFF Each when you buy 12 Save 24$
Free shipping

starts from 4 boxes.
Types of formulas can differ within the order.
4 or more -

$36.99

(

$151.96

$147.96

)
12 or more -

$35.99

(

$455.88

$431.88

)
Fast free shipping 3-5 business days (USA only). Free USA shipping on Formula only. Overnight delivery is available from Monday till Friday.
Purchase this product and earn 76 Points!
Registered users only
Suitable from birth to 6 months (0-6 months) HiPP Goat contains two main types of beta-casein protein, which are A1 and A2 beta-casein. HiPP's organic goat milk is naturally A2 and A1 beta-casein free.
Unlike cow's milk which is typically A1, A2 goat's milk is better suited to sensitive tummies because it is digested more quickly, easily, and completely by babies.
HiPP's formula mimics breast milk to bring your baby formula with the natural benefits of human milk. Like breastmilk, HiPP's formula contains prebiotics which help to promote healthy gut flora and digestion. Prebiotics have also been found to improve bowel movements and reduce colic in infants. It also contains a blend of organic vegetable oils as a source of palmitic acid which is naturally present in breastmilk and an optimal ratio of fatty acids including DHA (Omega-3) and ARA (Omega-6) to support brain development and visual acuity. Goat's milk is naturally high in many nutrients but HiPP makes up for what it's missing by adding all the vitamins and minerals needed for healthy growth and development.
This formula may be a good option if your little one has digestive issues, has sensitivities to cow's milk, or you're looking for a gentle breastmilk-like option.
Valuable fiber GOS (galactooligosaccharides) obtained from BIO lactose Contains DHA - required by law for infant formula DHA belongs to the family of omega-3 fatty acids
Contains all the important nutrients - for the healthy development of your baby
EU Organic
Made from gentle A2 goat milk
Contains ARA (Omega-6) & DHA (Omega-3)
Breastmilk-like formulation
Enriched with prebiotics (GOS)
PREPARATION INSTRUCTIONS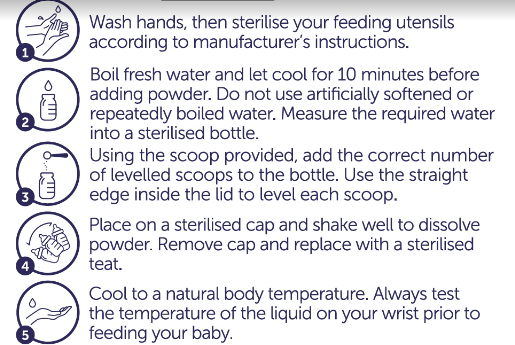 MIXING AND FEEDING INSTRUCTIONS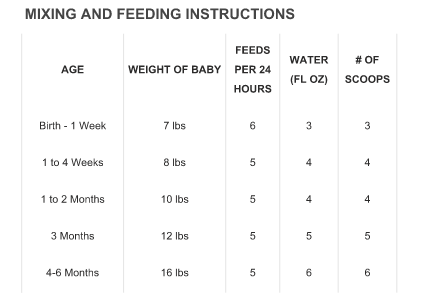 AGE WEIGHT OF BABY
DON'T FORGET
ONCE YOU HAVE OPENED THE BOX, YOU SHOULD USE WITHIN 2-3 WEEKS.
AVOID STORING IN AREAS OF HIGH HEAT OR HUMIDITY IF MIXED FORMULA IS NOT CONSUMED WITHIN AN HOUR, YOU SHOULD DISCARD IT
DO NOT MICROWAVE BOTTLES OR FORMULA
Ingredients
Goat Skimmed Milk *, Lactose *, Vegetable Oils * (Palm Oil**, Rapeseed Oil * Sunflower Oil *), Goat Skim Milk Powder*, Fish Oil¹, Choline, Calcium Carbonate, Mortierella Alpina Oil, L- tyrosine, sodium citrate, Vitamin C, L-tryptophan, L-Cystine, Zinc Sulfate, Iron Sulfate, Copper Sulfate, Niacin, Pantothenic Acid, Vitamin E, Vitamin A, Vitamin B1, Vitamin B6, Folic Acid, Vitamin K, Potassium Iodide, Sodium Selenite, Vitamin D, Biotin, Vitamin B12 * from biological production ¹ contains DHA (as required by the legislation for all infant formulas)
**Organic Palm Oil from Sustainable cultivation, certified by independent inspection bodies
Allergens: Milk, Lactose,Fish Oil
Features
Features
From birth Contains ARA (Omega-6) Made from gentle A2 goat milk EU standards Made in Germany
Very satisfied with formula and service
Showing 1 to 1 of 1 (1 Pages)
Write a review
Your Name
Your Email
Your Review
Note:

HTML is not translated!
Rating
Bad
Good