Kao clear clean Kids Strawberry 70g
Kao clear clean Kids Strawberry 70g
×
Florida customers from the following zip-codes are eligible: 33160, 33180, 33009, 33162, 33008, 33181
×
Клиенты Florida из следующих почтовых кодов имеют право: 33160, 33180, 33009, 33162, 33008, 33181
$6.99
Leave a positive feedback and get $2 discount for your next order on our website. After that you will receive 200 points in your bonus account
Purchase this product and earn 14 Points!
Registered users only
Product Description
Kao toothpaste clear clean Kids Strawberry 70g is one of the best toothpastes for kids. This original product from Japan protects infant teeth from tooth decay. The strawberry flavored toothpaste contains xylitol and is safe for children to swallow.
Benefit of Product
Great strawberry flavor
Safe to swallow
Protects baby teeth from tooth decay
Gently removes plaque
Contains xylitol, a natural sugar substitute
Has a calcium supplementation aid for tooth enamel
Promotes good dental hygiene habits from the beginning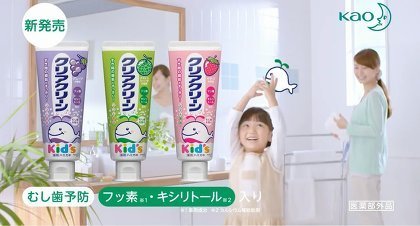 Japan original Kao infant child mothshields xylitol caries prevention toothpaste 70g* safe to swallow itis Japan can effectively protect the origin of teeth to prevent toothdecay dental caries in infants
The flavor of the strawberries
There are no reviews for this product.
Write a review
Your Name
Your Email
Your Review
Note:

HTML is not translated!
Rating
Bad
Good