Kendamil Goat Stage 3 (12-36 Months) Toddler's Milk (800g)
Kendamil Goat Stage 3 (12-36 Months) Toddler's Milk (800g)
×
Florida customers from the following zip-codes are eligible: 33160, 33180, 33009, 33162, 33008, 33181
×
Клиенты Florida из следующих почтовых кодов имеют право: 33160, 33180, 33009, 33162, 33008, 33181
$69.99
$69.99
Leave a positive feedback and get $2 discount for your next order on our website. After that you will receive 200 points in your bonus account
1$ OFF Each when you buy 4 Save 4$ 2$ OFF Each when you buy 12 Save 24$
Free shipping

starts from 4 boxes.
Types of formulas can differ within the order.
4 or more -

$68.99

(

$279.96

$275.96

)
12 or more -

$67.99

(

$839.88

$815.88

)
Purchase this product and earn 140 Points!
Registered users only
Kendamil Goat Stage 3 (12-36 Months) Toddler's Milk (800g)
AGE: From 12 to 36 Months
YIELD: Approximately 174 fl oz of Formula
Kendamil Goat Stage 3 toddler's milk is suitable for toddlers from 12 to 36 months of age and is based on full-cream (whole) goat milk that is produced in Northwest England.
Goat milk is similar to but different from cow's milk. It contains more short and medium fatty acids which can make it easier to digest. It also contains selenium, an essential mineral that supports the development of the immune system. Goat milk also contains specific prebiotics found in breast milk. If your little one is experiencing minor feeding issues or not settling on cow's milk formula, it may be worth trying goat milk formula as an alternative.

Kendamil Goat incorporates prebiotics (GOS) to improve gut health and can soften stool and a plant-based form of DHA. Importantly, Kendamil Goat toddler's milk does not use palm oil in its fat blend and instead relies on coconut oil in its fat blend.
You can buy Kendamil Goat Stage 3 organic formula in the following cities: Los Angeles, San Francisco, New York, Houston, Louisville, Philadelphia, Seattle, Austin, Chicago, Houston, Phoenix, San Diego, Dallas, Detroit, Denver, Boston, Portland, Washington, Indianapolis, Louisville and other.
BENEFITS:
Whole goat milk
Prebiotics for gut health and softer stool
Plant-based Omega-3 DHA for brain & eye development
No Palm Oil
No corn-based sweeteners
No Maltodextrin
No GMOs
INGREDIENTS
Whole goat Milk, Goat demineralized whey powder (from Milk), Lactose (from Milk), Vegetable oils (sunflower, coconut, rapeseed), Goat skimmed Milk powder, Galacto-oligosaccharides (from Milk), Tri-Calcium phosphate, Calcium lactate, Calcium citrate, Calcium Phosphate, Potassium hydroxide, Sodium ascorbate, Docosahexaenoic Acid, Ferrous Sulphate, Arachidonic acid, L-Carnitine, Vitamin E, Zinc Sulphate, Niacin, Calcium pantothenate, Copper sulfate, Vitamin A, Thiamin, Riboflavin, Vitamin B6, Folic acid, Manganese Sulfate, Potassium iodide, Sodium selenite, Vitamin K, Vitamin D3, Biotin, Vitamin B12.
PREPARATION INSTRUCTIONS
Snap open the tamper-proof clip and dispose of it immediately and safely, away from children. Do not use it if the pin has already been broken open. Hold the top of the can with both hands, place both thumbs under the lip and push up to open. The scoop is held inside the lid. Open the foil seal by pulling back on the easy-open tab carefully and safely, then dispose of the foil.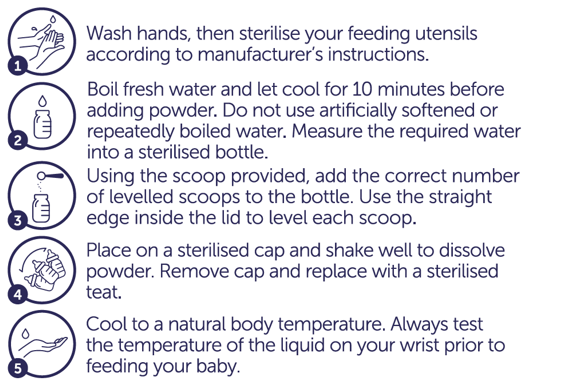 MIXING AND FEEDING INSTRUCTIONS (KENDAMIL 3 GOAT TODDLER'S MILK)
Please refer to the feeding guide shown below and note this table should only be used as a guide. All babies are different and may require more or less than is shown. Kendamil Goat Toddler Milk should be fed on demand. If you need more advice talk to your healthcare professional.
| | |
| --- | --- |
| WATER (FL OZ) | # OF SCOOPS |
| 6 | 6 |
DON'T FORGET
· ONCE YOU HAVE OPENED THE CAN, YOU SHOULD USE IT WITHIN 2-3 WEEKS. AVOID STORING IN AREAS OF HIGH HEAT OR HUMIDITY
· IF MIXED FORMULA IS NOT CONSUMED WITHIN AN HOUR, YOU SHOULD DISCARD IT
· DO NOT MICROWAVE BOTTLES OR FORMULA
Features
Features
From 12-36 months Plant-based Omega-3 DHA No Palm Oil EU standards Made in UK
There are no reviews for this product.
Write a review
Your Name
Your Email
Your Review
Note:

HTML is not translated!
Rating
Bad
Good