Meiji PREMIUM Amino Collagen 214g
Meiji PREMIUM Amino Collagen 214g
×
Florida customers from the following zip-codes are eligible: 33160, 33180, 33009, 33162, 33154, 33008, 33019, 33181
×
Клиенты Florida из следующих почтовых кодов имеют право: 33160, 33180, 33009, 33162, 33154, 33008, 33019, 33181
$39.99
Purchase this product and earn 80 Points!
Registered users only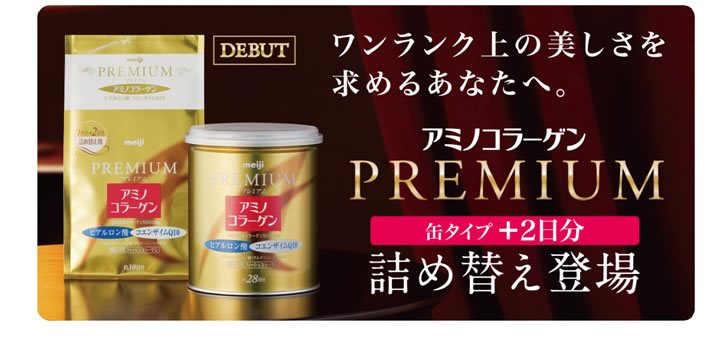 Want to stay young? Take collagen!
Collagen is one of the most important substances that affects the youth of our skin, its suppleness, softness and elasticity. Collagen plays a key role in smooth operations of the musculoskeletal system in the body. It is the main component of connective tissue in tendons, ligaments, bones, cartilage, nails, hair and skin. A young body can produce collagen, but with age, this function gradually fades, which results in a changed structure of cartilage and tendons, makes bones more brittle and fragile, and the skin loses its suppleness and elasticity.
It has been proved that reduced collagen content is caused not only by a reduced synthesis, but also by an increased decay. These processes are especially accelerated in unfavorable environment, ultraviolet radiation and smoking, which are stressors to the body.
Collagen is the most important protein in the body. It makes more than 30% of the total body protein mass, with about 40% of it in the skin, about 50% in the skeletal tissues and 10% in the stroma of the internal organs. The word collagen derives from the ancient Greek words "glue" and "origin" (colla, genesis). It is collagen that sticks together, or rather, strengthens the body's tissues.
The effects of collagen use:
• It restores skin elasticity, reduces wrinkles, slows down the skin aging process, is good for treatment of acne vulgaris, strengthens skin immunity, restores a sluggish skin in the process of weight loss, cleanses the skin from age spots, is good for skin allergies, reduces cellulite and stretch marks, accelerates wound healing, smoothes scars and regenerates the skin after plastic surgery operations;
• It strengthens the hair and improves its structure;
• It improves the growth of nails, saves the nails from breakage and delamination;
• It sustains the strength of bones and holds calcium it them, is good for osteoporosis, osteoarthritis, all kinds of arthritis, gout, herniated discs and rheumatic joints, is relieves pain in the joints and bones, accelerates healing and rehabilitation after all kinds of bones, joints and ligaments injuries;
• It restores muscle tissues in atrophic cases, stimulates the growth of muscle tissues in sports training;
• It improves venous and arterial circulation, and is good for varicose veins and anus;
• It improves visual acuity, and is good for cataracts and chronic conjunctivitis,
retinal peeling, improves the structure of the collagen fibers in the eyeball, increases the endurance (reduces fatigue) of the eyesight;
• It is good for rejuvenating and prevention of aging
• It regenerates the mucous membranes and strengthens gums;
• It improves the thyroid functions;
• It is good for insulin-dependent diabetes;
• It improves sleep, and is good fro neuroses, depression and stress;
• It is good for cardiac arrhythmias, hypertension, after a heart attack, coronary artery disease, heart muscle disease;
• It accelerates the treatment of pancreas, gallbladder, bile ducts, biliary dyskinesia, chronic infections, diseases of the lungs, kidneys etc.
So who can take collagen? Anyone!!! In Japan, people start taking collagen supplements at 25, since at this age the body stops growing and triggers the aging processes. Collagen is for anyone who wants to have a flexible spine and healthy joints! Anyone who wants to have a beautiful velvety skin and stay young and energetic as long as possible!
Collagen is a way to longevity, youth and beauty of your body! Take collagen and stay healthy!!!
Apart from 5000 mg of low molecular fish collagen, the daily dose of Amino Collagen also contains 1200 mg of ceramides (which has a significant rejuvenating effect), 20 mg of hyaluronic acid and coenzyme Q10 (the source of vitality, beauty and youth). Each dose of the powder also contains 450 mg of arginine, the amino acid (building blocks of amino collagen), 60 mg of glucosamine and 50 mg of vitamin C.
The power quickly dissolves in water and, you can take it by adding to your favorite meal - food or beverage (hot or cold) without changing the taste.
Contraindications
Pregnancy, lactation, hypersensitivity, natural marine collagen (protein) has high activity and can cause allergic reactions in some cases. If you have any ailments or allergies immediately stop using the medication and consult a doctor.
Composition:
Fish collagen peptide (gelatin), maltodextrin, vegetable oil, coenzyme Q10, ceramides containing rice germ extract, trehalose, vitamin C, glucosamine, arginine, flavoring, hyaluronic acid, emulsifier (including soybeans), thickener (gum arabic) sweetener (sucralose)
The standard daily dose is 7 g.
Manufacturer: Meiji (Japan)
Presentation: Package, 214 g, powder (30 days of use)
There are no reviews for this product.
Write a review
Your Name Your Review

Note:

HTML is not translated! Rating

Bad

Good