Moony "Air Fit" Baby Diapers - Preemie for New Born. (up to 3kg) (6 lbs) 64 count
×
Florida customers from the following zip-codes are eligible: 33160, 33180, 33009, 33162, 33154, 33008, 33019, 33181
×
Клиенты Florida из следующих почтовых кодов имеют право: 33160, 33180, 33009, 33162, 33154, 33008, 33019, 33181
The product is out of stock
Brand:
Unicharm Corporation
Product Code:
moony-baby-diapers-for-newborn
$25.99
$27.99
2$ OFF each when you buy 6 (save 12$). 3$ OFF each when you buy 12 (save 36$). Mix and match diapers, pull ups and formula. 6 or more - $23.99 ( $155.94 $143.94) 12 or more - $22.99 ( $311.88 $275.88)
Expected delivery time is 3-5 business days (dependent on the state your order is shipping to).
For more information about delivery times see our
shipping and return policy
.Get a $2 discount on each item, when you purchase 6 or more packs of diapers or pull-ups.
Free shipping to
some* Florida customers (click for info)
is from 2 packages of diapers or more.
Moony "Air Fit" Baby Diapers - Preemie for New Born. (up to 3kg) (6 lbs) 64 count
5
1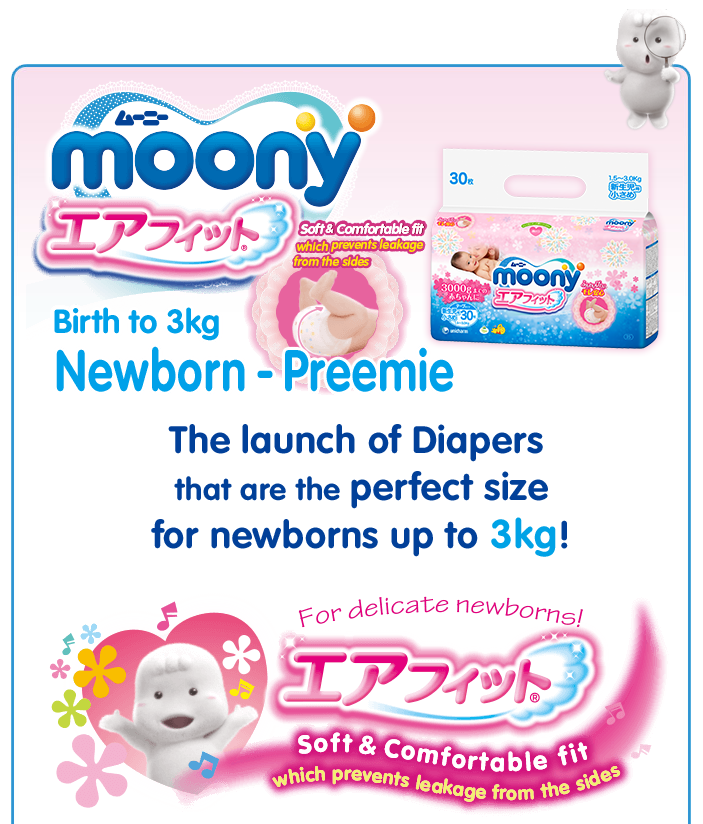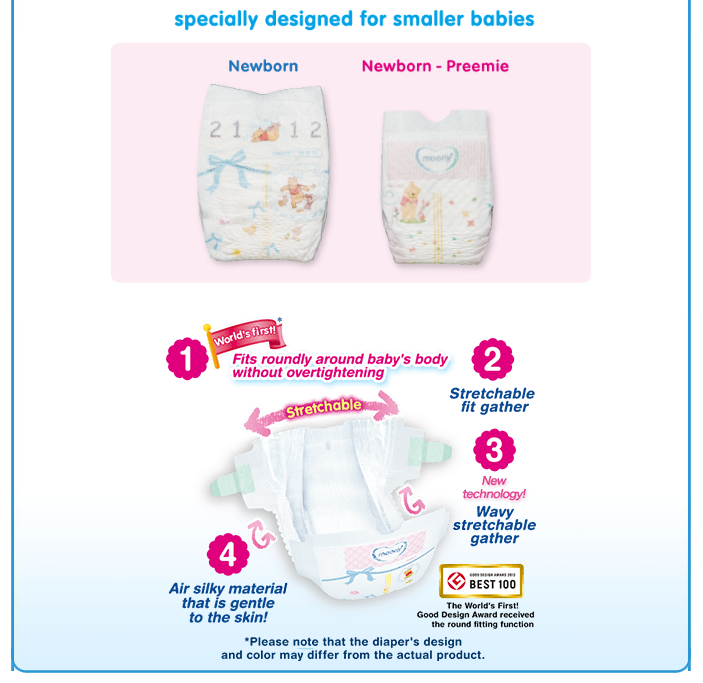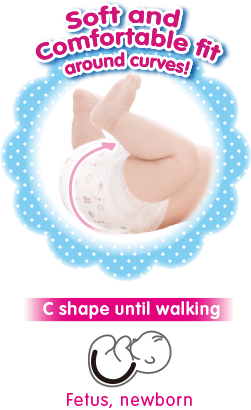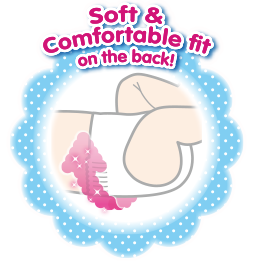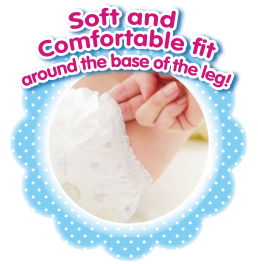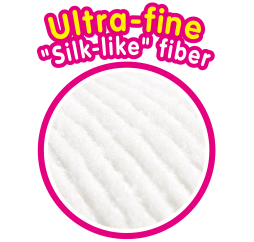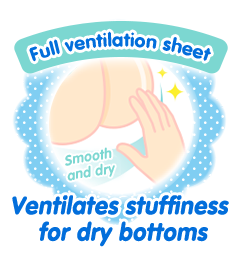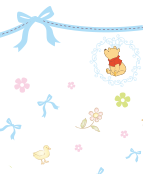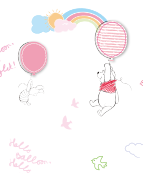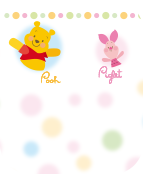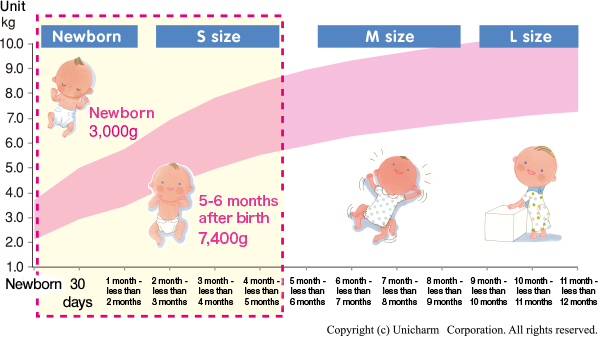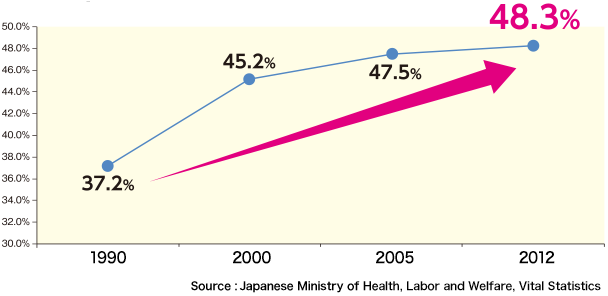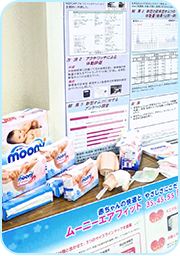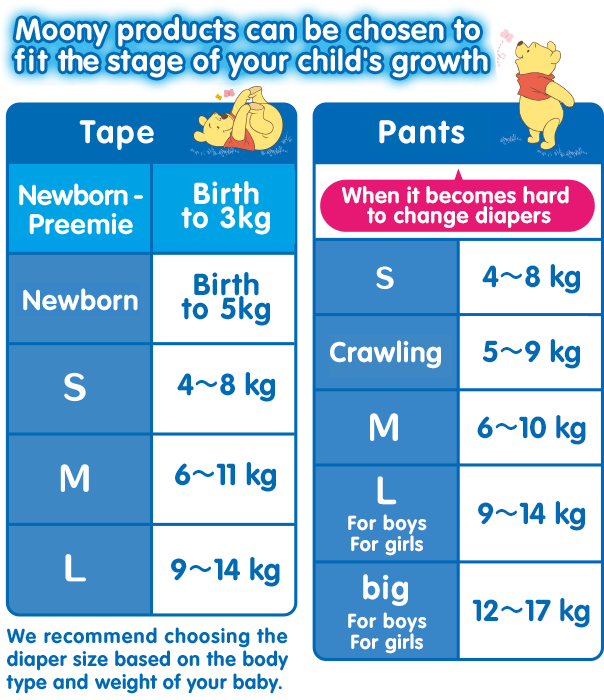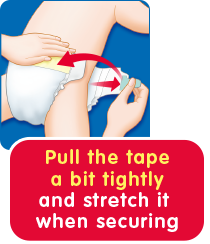 For the delicate skin of babies weighing up to 3kg
To ensure healthy skin and prevent rashes
The World's First!* 3-Dimensional form fits perfectly to your baby's body frame!
Rounded fit that is not overly tight
New curvy form that matches your baby's round body frame!
Tightening around the babies waist and legs has been reduced by about 50%!★Wraps very gently!
★1 Comparison with our conventional products (assumed values for S size)

★2 There are individual differences depending on the baby's body and how the diapers are put on.

*1 The stretch sheets around the waist and crotch along with the uniquely cut shape of the absorber help to fit around the baby's body.

*2 Unicharm research conducted in September 2012 on tape-type baby diapers from major global brands
Prevents leakage even from runny stools!
Stretchable fit gather
Perfect for when carrying
or breast-feeding your baby! Fits perfectly to the back's curves
and protects against leaks!
New Technology - Wavy stretchable gather!
The wavy cut gather
fits softly around the babies' tiny legs!. It does not overly tighten
and is gentle to the skin!
Air silky - gentle to the skin!
The airy weave of the silky
fine fibers used in the inner sheet, gently wraps the delicate skin of the baby
and helps to prevent rashes.
Stays dry while preventing leakage
Full ventilation sheet
No worries around the navel area
Umbilical Cord Notch
Super absorption to prevent
worries of leakage
Easy to know when to replace
Wetness Indicator
*The line changes blue-green after urination.
<Six Types>
Cute & Friendly Winnie the Pooh designs
(Three designs per package)
A babies' weight changes most dramatically, during the newborn to S size phase. There has been an increase in the ratio of babies born small.
Baby's growth curve during the first year (changes in weight)
Changes in the ratio of babies with a birth weight of less than 3,000g
Smaller-sized babies in particular tend to experience diaper-related problems
The incidence rate of problems for smaller babies at the time of hospital discharge
When considering the weight of babies over 3kg at time of hospital discharge as "100"
Proper fitting diapers should feel more comfortable for babies, too.
You can choose diaper size according to the stage of your baby's growth:
Newborn - Small (birth to 3kg) and Newborn (birth to 5kg).
Unicharm carries out professional research on the form and top sheet functions of diapers.
Unicharm has conducted extensive research and has announced that their new diapers developed to fit the body size and skin (i.e. material that is gentle to the skin) of premature babies can reduce the stress of urination and defecation. The research was carried out in collaboration with the Japan Association of Research on Developmental Care.
[Research results]
1. It was found that there is a high likelihood that Moony Newborn - Preemie, which was developed to be suitable for the body size and skin (i.e. material that is gentle to the skin) of premature babies can reduce their stress of urination and defecation.

2. The texture, design and size of Moony Newborn - Preemie, has received positive evaluation
About the 17th Neonatal Respiratory Care and Monitoring Forum
(March 19 - 21, 2015)
About the Japan Association of Research on Developmental Care
Based on the principle of developmental care (to implement kind and compassionate care focused around babies and their families with the objective of babies' warm emotional growth), the Association aims for the development of neonatal medicine and the creation of futures for babies and their families. At the same time, the Association develops and promotes educational programs for physicians, nurses, etc. (President: Hiroshi Nishida, M.D., Honorary Professor, Tokyo Women's Medical University)
Lineup
How to use Moony
- The side with the tape is "The backside"
- Open the diaper and slide the back half under the baby to the top of the waist
- Pull the tape and make sure that it fits snugly
The entire backside of the diaper stretches which prevents you from worrying about the diaper being too tight for your baby.
*Note: Make sure that the left and right sides have been placed symmetrically
Great product will buy again
Showing 1 to 1 of 1 (1 Pages)
Write a review
Your Name Your Review Note: HTML is not translated! Rating Bad Good

Customers Also Bought

Recently Viewed