Pull Ups Merries. XL size. Unisex.(12-22kg) (26-44lbs) 38 count.
Pull Ups Merries. XL size. Unisex.(12-22kg) (26-44lbs) 38 count.
×
Florida customers from the following zip-codes are eligible: 33160, 33180, 33009, 33162, 33008, 33181
×
Клиенты Florida из следующих почтовых кодов имеют право: 33160, 33180, 33009, 33162, 33008, 33181
$25.99
$29.99
Pull Ups Merries. XL size. Unisex.(12-22kg) (26-44lbs) 38 count.
5
17
Leave a positive feedback and get $2 discount for your next order on our website. After that you will receive 200 points in your bonus account
1$ OFF Each when you buy 6 Save 6$ 2$ OFF Each when you buy 12 Save 24$
Mix and match diapers, pull-ups and formula.
6 or more -

$24.99

(

$155.94

$149.94

)
12 or more -

$23.99

(

$311.88

$287.88

)
Expected delivery time is 3-5 business days (dependent on the state your order is shipping to). For more information about delivery times see our
shipping and return policy
. Free shipping to
some* Florida customers (click for info)
is from 2 packages of diapers or pull-ups.
Purchase this product and earn 52 Points!
Registered users only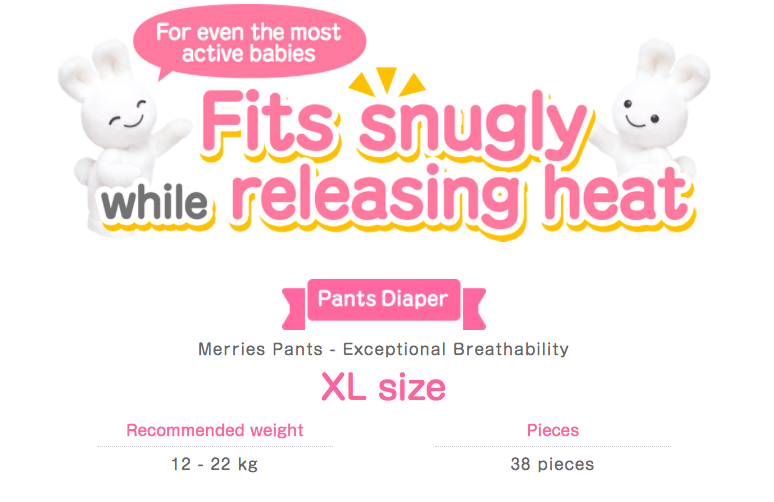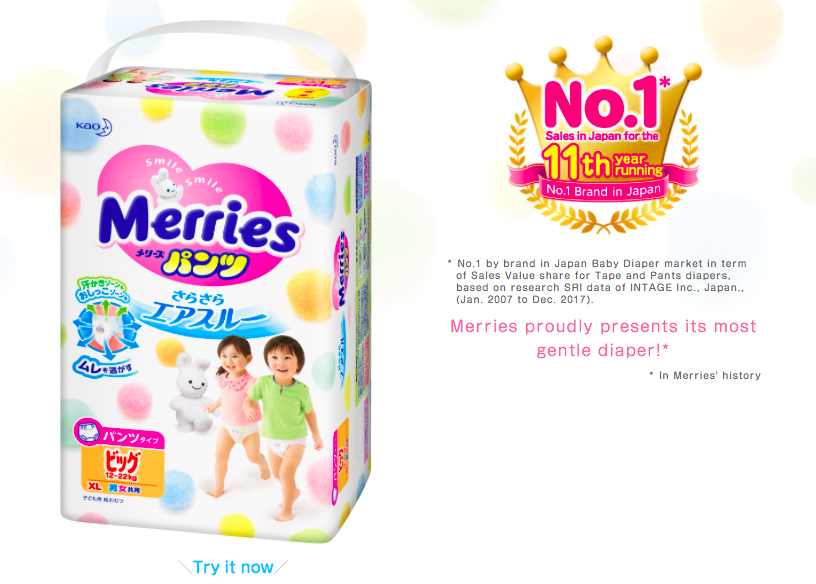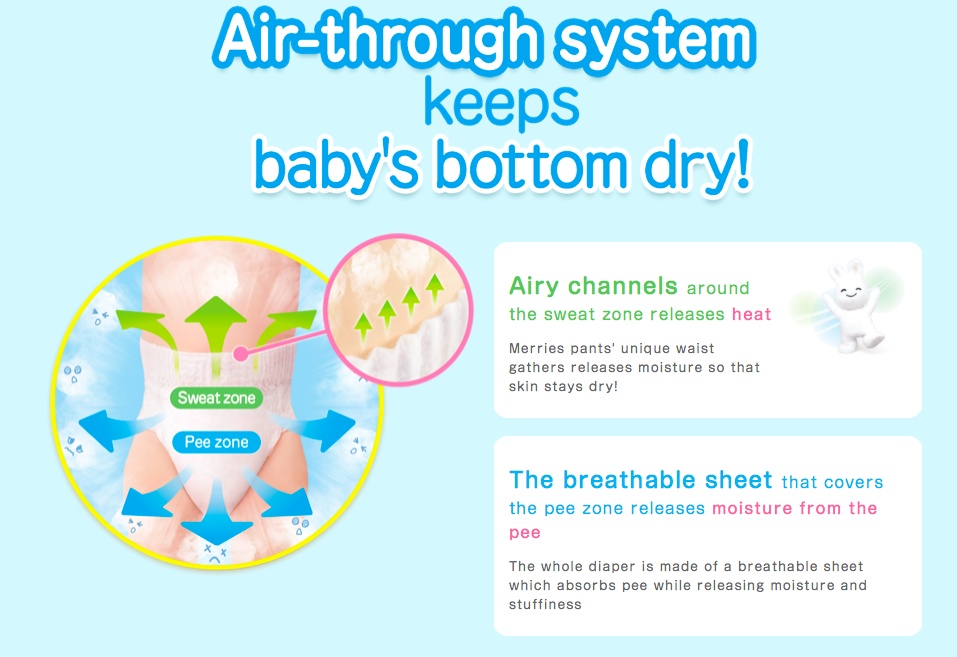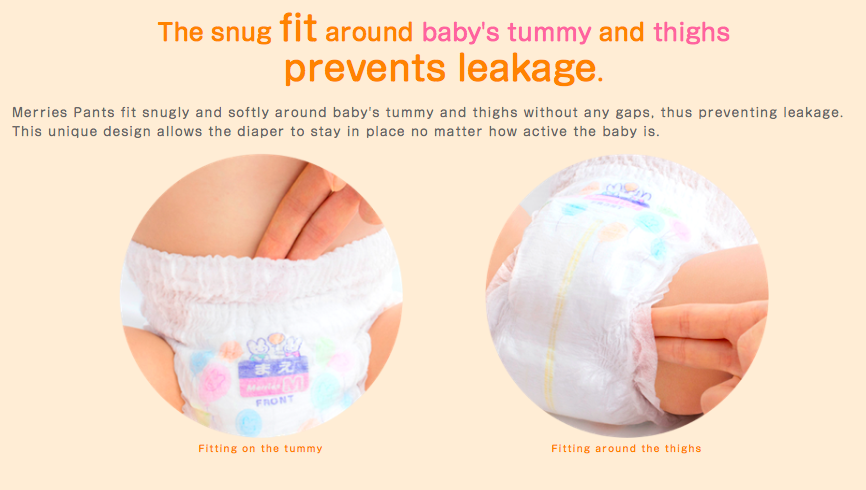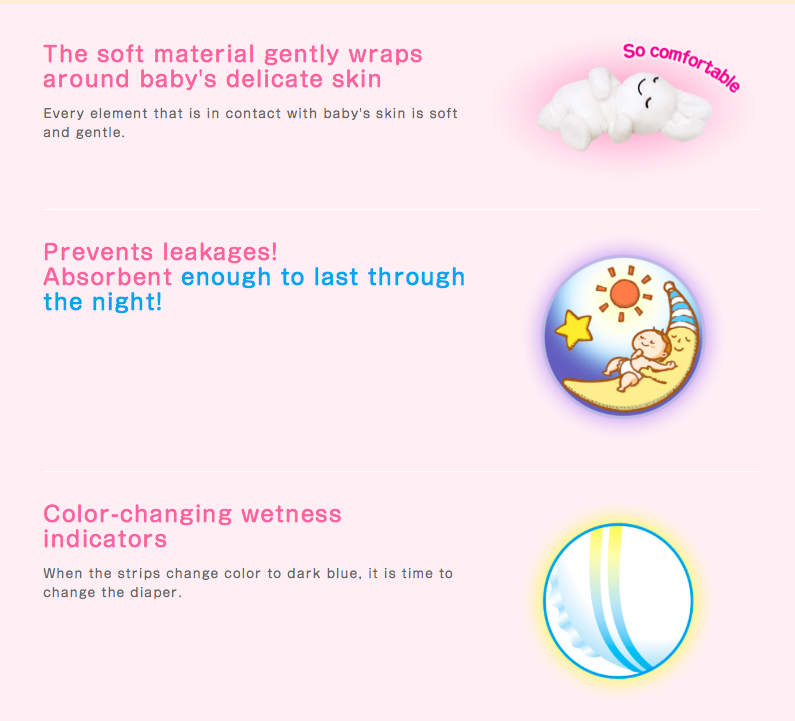 Thinking about buying Japanese pull-ups Merries? That's a great choice! These pull-ups are for healthy growth and freedom of movement for your baby, since active growing babies can move easier while wearing the diapers. Pull-ups Merries "breathe", are not too snug, and let your baby enjoy life. Below you can see prices, photos and varieties of pull ups Merries.
Pull-ups Merries gently and carefully hug baby's legs. The absorbing layer of the pull-ups transforms and absorbs from all the sides. Merries adjust to the body of a baby and don't prevent him from his active lifestyle. That is very important in such age.
Pull-ups Merries don't swell when filled. The absorbent layer has a special slot. The absorbing process happens along that slot. Since the whole surface of the diaper is used in the absorbing process that is the reason why it doesn't swell between the legs.
Both barriers of the absorbing layer rise and conveniently adjust to the perineum when the pull ups are being put on the baby.
The whole surface of Merries allows evaporation. Thanks to the «breathing» surface, baby's behind will always stay dry. Special air channels of Merries pull-ups spread all the evaporation over the entire surface.
Indicator in Merries- three special lines- will let you know that the baby has peed. The lines in the center of the pull-up will become blue when you need to change the diaper.
Soft belt and elastics around baby's legs gently hug the stomach and legs throughout day and night, letting baby be free to move while he sleeps, plays, eats or actively moves around. Moreover the dotted elastic on the belt of Merries prevents pull-ups from sliding off. Merries will not fall off the baby even when he is actively moving.
Japanese pulls-ups Merries are made of the materials that passed strict and thorough quality check. Soft cotton material that makes up the diaper will protect your baby from having chafing. Pull-ups Merries are made of: polyolefin, non-woven polyester, cotton linters, paper, super absorbent polymer, polyolefin film, non-woven polypropylene, polyurethane, hot melt.
Size XL (12-22kg)(26-44lbs) 38 count
Soft touch
Super absorbent
Made in Japan
We really like this pull-up, really good for my baby who toss and turn a lot at night, never leaked.
The best diapers. We use only them, and nothing else can compare with them.
One of the best diapers on the market. Fully dry and great fit.
My son is almost 18mo and these pull ups fit him great.
The best diapers I have used. No complaints.
Good pull ups , but not as good as moonys pull ups.
Great diaper! No leaks and it's great on my-daughters sensitive skin!
I love this store and Japanese diapers! No rashes, no leaks if proper size. Tried different cheaper brands and buts of my twin boys get red very quickly. Thank you very much for your great service and discount policy for buy 12 packs and get 36$ discount!
Awesome product delivered on time and exactly as requested. Immaculate service!
Great as always.
Placing repeat orders every three months.
Great product !
Was buying it since 2017 and very happy.
My daughter started having diaper rash as soon as we started using pull ups which are sold in the most stores and pharmacies so I decided to start buying Japanese pull ups as we already tried them during our travel and we liked them very much. This store was the only one I found besides Amazon where I could buy the pull ups for a reasonable price with great delivery service. I highly recommend trying those Japanese diapers and pull ups!
Merries pull ups are bigger compared to moony. The merries cover up the entire butt; whereas, moony rest on the butt cheeks and are smaller. My 20lbs daughter wears moony XL pull up at night since it absorbs more than her large diapers and doesn't leak when she sleeps on her side (she wears large moony diapers during the day). We prefer moony diapers since they have better leak protection, and I think they absorb more (though they don't seem to be as breathable as the merries, though we haven't had any problems with diaper rash or any irritation). But the XL merries pull ups are too big for her. So I would recommend merries for pull ups better since they're larger and appear to absorb more and moony for diapers because they have better leak protection. I tried all sorts of Western diapers (pampers, huggies, honest company, kirkland, bambo, 7th generation) and all of them gave my daughter irritation. Japanese diapers are the best in the world!
Excellent quality, very soft, no leaks , if you try Japanese diapers or diaper pants once , you would not want to come back to other brands
I bought Merries XL and Moony XL Pull-Ups. They are both very good quality soft and no chemical smell.But I prefer Merries it covers more,the fit is like underwear and the design its really cute.
I'm always a bit too cautious when buying things from an unknown seller but the price from this company is about $15 cheaper per packs than where I've been ordering from. I'm glad I trusted the site because my order was received quickly and without issue!
From personal experience we tried may different alternatives for our daughter. Pampers, Pampers pull ups, Huggies diapers, or pull ups, Seven Generations and some others available on USA market. However, each single brand were inferior by one or several features to Merries diapers. Even Moonies were not as good as Merries ( but very close in quality ). We are also very pleased with services provided by staff of www.thebestfromjapan.com. Great communication, fast delivery and top notch product as promised. Did I mention the pricing ? You will not find better price online or retail for products offered on this website. By creating a business plan for this business, the price works out to be exact what it is here on this website and beats every other offer. Thumbs up for thebestofjapan.com and these Merries diapers. From bottom of my heart, thank you very much for excellent service and products!
Showing 1 to 17 of 17 (1 Pages)
Write a review
Your Name
Your Email
Your Review
Note:

HTML is not translated!
Rating
Bad
Good