Pigeon Water Thermometer, Polar Bear
Pigeon Water Thermometer, Polar Bear
×
Florida customers from the following zip-codes are eligible: 33160, 33180, 33009, 33162, 33008, 33181
×
Клиенты Florida из следующих почтовых кодов имеют право: 33160, 33180, 33009, 33162, 33008, 33181
$10.99
Leave a positive feedback and get $2 discount for your next order on our website. After that you will receive 200 points in your bonus account
Purchase this product and earn 22 Points!
Registered users only
Recommended for when bathing a baby. Float this fun hot water thermometer in the bath when bathing your baby. With a handy suitable temperature display. The cute polar bear design will also delight your baby.
Materials: Main Item: styrene resin, Thermosensitive liquid: white kerosene
This item is for measuring the temperature of bath water. Do not use for any other purpose.
Be sure to check the water temperature with your hand before putting your baby into the bath.
Do not use if is damaged or if the red temperature-sensitive liquid has separated.
Never leave in place with a temperature of less than -10°C or in water that is over 60°C.
Store out of reach of small children
This has a glass tube so do not allow children to touch.
Made in Japan
Manufacturer Name: Pigeon
Contents: 1
Weight (item only)]: 90 gr
JAN 4902508102315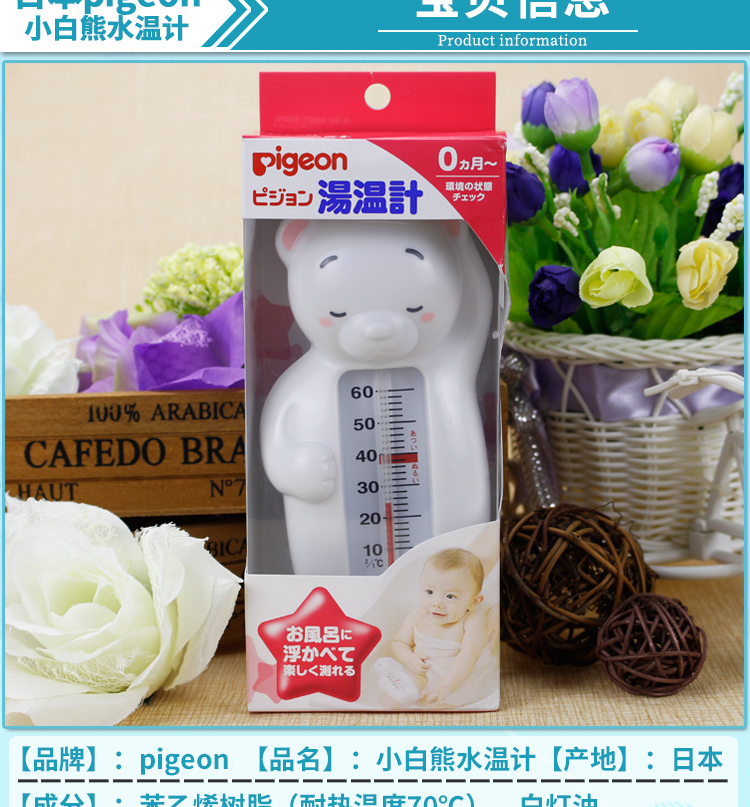 There are no reviews for this product.
Write a review
Your Name
Your Email
Your Review
Note:

HTML is not translated!
Rating
Bad
Good